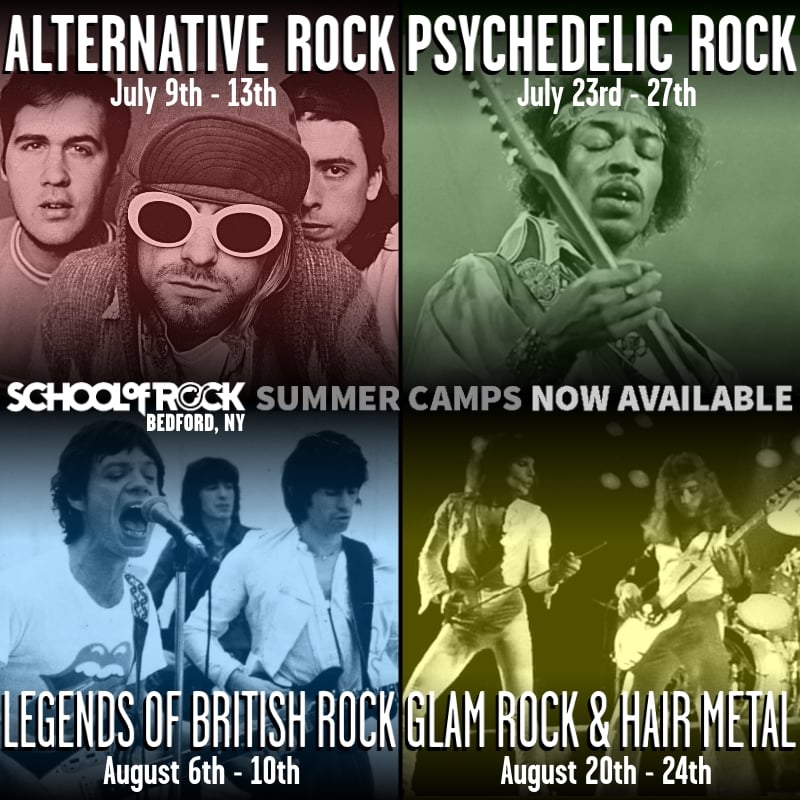 2018 SUMMER CAMPS & DISCOUNTS!
It's time to announce the School of Rock / Bedford's FOUR ONE-WEEK SUMMER CAMP SESSIONS FOR 2018! These camps are designed to challenge current students and immerse new students in the School of Rock experience on guitar, bass, drums, keyboards, or vocals. Camps are recommended for students with some experience on their instrument age 9-18.

Our camps will give students experience in private lessons, group rehearsals, gear usage, and team bonding in an amazing rock n' roll environment! To boot, we cap off the week with a rock show at a local venue for a real on-stage experience. Come rock with us this summer!

SESSION 1: ALTERNATIVE ROCK CAMP
JULY 9TH - 13TH / 10:00 AM - 3:30 PM
Pay homage to music that took over from the late 1980s until today! This Summer will start with a bang as we rock out to bands like Nirvana, RHCP, Pearl Jam, Radiohead, Weezer and much more.

SESSION 2: PSYCHEDELIC ROCK CAMP
JULY 23RD - 27TH / 10:00 AM - 3:30 PM
Get your tie dye ready as we take it back to revisit the Summer of Love and all of the awesome music produced in that era. This genre has awesome classic rock that we can't wait to dig in to!

SESSION 3: LEGENDS OF BRITISH ROCK CAMP
AUGUST 6TH - 10TH / 10:00 AM - 3:30 PM
Starting with the British Invasion in the mid-1960s, we've enjoyed our fair share of music from across the Atlantic over the past 50 years! In this camp, we'll tackle some of the biggest bands in history.

SESSION 4: GLAM ROCK & HAIR METAL CAMP
AUGUST 20TH - 24TH / 10:00 AM - 3:30 PM
This camp features the music of great bands with elaborate costumes, big hair, and iconic make-up. With songs from David Bowie to Twisted Sister, KISS to Guns N Roses, we're going to have a blast!

SIGN UP BY APRIL 15TH TO RECEIVE A 15% DISCOUNT!
ENTER THE CODE "SUMMER2018" AT CHECKOUT

During these one-week all-day sessions, campers meet and interact with other young musicians to hone their performance and ensemble skills. Programs are taught by our staff of professional musicians who combine years of technical expertise and knowledge with extensive experience working with kids.

If you have any questions about registration or want to know more about our summer camps, email us at bedford@schoolofrock.com or call us at 914.234.0418.

WE LOOK FORWARD TO ROCKING WITH YOU THIS SUMMER!