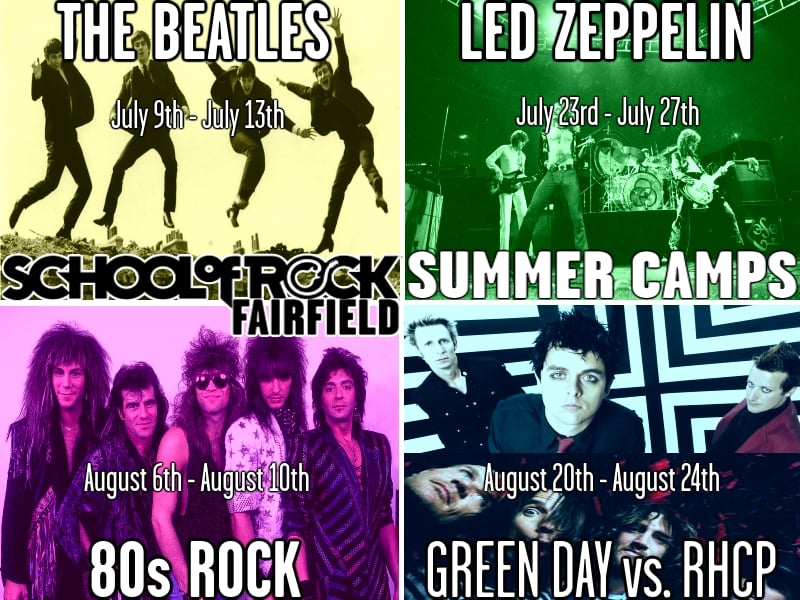 2018 SUMMER CAMPS AND DISCOUNTS!
EARLY REGISTRATION DISCOUNT AVAILABLE NOW!
Register for any of our Summer Camps and save 15% with the coupon code SUMMERCAMP2018 at checkout.
Discount available through April 20, 2018. Email
[email protected]
with questions.
About School of Rock Summer Camps:
During these one-week all-day sessions, campers meet and interact with other young musicians to hone their performance and ensemble skills. Programs are taught by our staff of amazing musicians who combine years of technical expertise and knowledge with extensive experience working with kids.
Our camps will give students experience in private lessons, group rehearsals, gear usage, and team bonding in an amazing rock n' roll environment! On Friday of each session, we cap off the week with a rock show at a local music venue. Come rock with us this summer!
During the Summer of 2018, we are offering four, one week all-day (10:00am to 3:30pm) summer camp sessions, ideal for musicians from ages 9-18 with at least 6 months of experience on their instrument. Sessions include:
SESSION 1: Beatles Camp (July 9-13),
SESSION 2: Led Zeppelin Camp (July 23-27)
SESSION 3: 80's Rock Camp (August 6-10)
SESSION 4: Green Day vs. Red Hot Chili Peppers Camp (August 20-24)
Summer Camps feature:
- Private guitar, drum, vocal, keyboard, and bass lessons
- Speed-learning song parts
- Crash course on the nuts and bolts of live performance
- Group instruction
- Closing day live concert for your family and friends