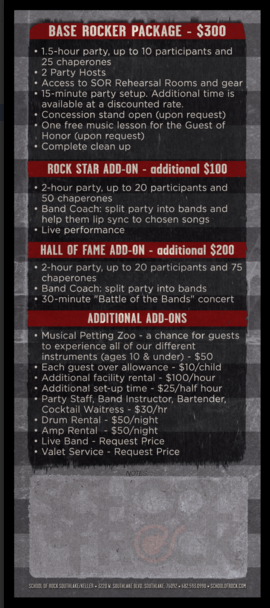 School of Rock Birthday Party
Want a super fun rockin' Birthday Party? School of Rock is a perfect birthday spot!

"We take a backing track of, say, a Katy Perry tune and then have the kids work with an instructor to come up with lyrics that match the interests of the guest of honor," says John Carboy, manager of the Farmingdale, New York, location.

The experience: "My 3-year-old daughter, Olivia, still sings the oldies songs she learned at her birthday party, and that was eight months ago," says Laura Bisceglia, of Levittown, New York.

The details: Starting at $300, depending on location, for an hour of music and an hour in a private party room for up to 15 kids, including pizza, paper goods, and drinks.

This article can be found at: http://www.parents.com/fun/birthdays/ideas/top-10-birthday-chains-for-kid-birthday-parties/?page=2

Contact: 214.363.7625 or teverheart@schoolofrock.com for more details.